What is a destination wedding?
A destination wedding is a wedding that is held far away from your home town and usually in another country. It might be your dream to say your vows on a sun-soaked Mediterranean beach, for example, or in the grounds of a fairytale castle in the Highlands of Scotland.
Destination weddings give couples the opportunity to get married in some of the most beautiful locations in the world. Popular destinations include the beautiful coast of
Croatia
, mountain resorts of
Switzerland
, the Italian island of
Sicily
, glamorous
Monaco
and the luxury of Dubai.
The Sparkle Band is the ultimate in destination wedding bands!
The Sparkle Band is a destination wedding band like no other!
We offer an unbeatable combination of world-class musicians, unforgettable live performances, and that unique glitz and glamour that only The Sparkle Band bring to every occasion.
Members of the band have performed all over the world with headline acts including One Direction, Bastille, Adele, Dua Lipa, Rag'n'Bone Man, Jamie Cullum, James Bay and Ed Sheeran, to name but a few.
They have also played at weddings and other luxury events all over the world, including
the Azores
, Athens, Bahamas, Bahrain, Barcelona,
Doha
, Dubai, Hong Kong, Kuwait,
Lisbon
,
Madrid
, Maldives,
Mallorca
,
Montenegro
, Mykonos,
Provence
,
Rome
, Santorini,
San Diego
,
Tel Aviv
and
Vienna
. Believe it or not, Antarctica is also on the list of amazing locations we have had the privilege to perform in. We have been fortunate enough to have met some incredible couples along the way and hope to meet many more.
Our versatile line-ups mean we are able to provide live music for every aspect of your wedding, from a string quartet playing at your wedding ceremony to a fully-stacked show band entertaining your reception guests into the small hours.
We will always go that extra mile to ensure your Big Day is just as you envision it. If we need to tailor outfits to match a colour theme, we can do that. If we need to learn your favourite songs to add extra sparkle, or even learn to sing in another language because it would create a truly special moment for you, consider it done.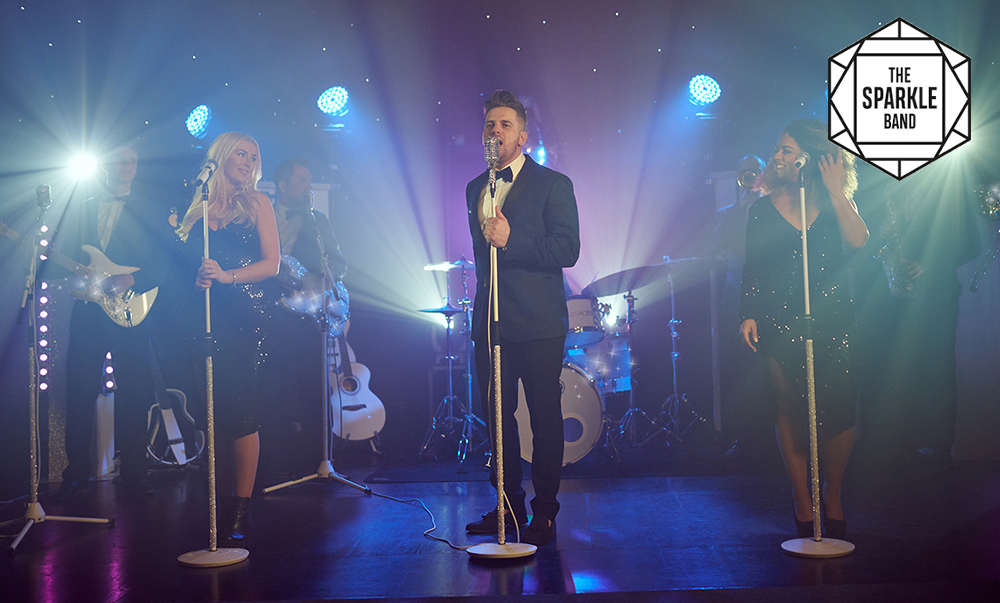 Top 15 Luxury Wedding Destinations 2023
1. Santorini, Greece
2. Barcelona, Spain
3. Dubai, United Arab Emirates
4. Ibiza, Balearic Islands
5. Capri, Italy
7. St Tropez, French Riviera in France
9. Paphos, Cyprus
10. Algarve, Portugal
11. Malta
12. Marbella, Costa Del Sol
13. Lanzarote, Canary Islands
14. Antalya, Turkey
15. Galway, Ireland
How do you get a sparkling baby grand piano onto a plane?
Key to the visual show that is The Sparkle Band is our bespoke instruments, each one lovingly encrusted with countless sparkles! This really does bring an added dimension to every performance and provides countless Instagram moments for you are your guests.
But how do we get our stunning baby grand piano onto a plane?
Good question! The short answer is we don't :)
For weddings being held in the
United Kingdom
and mainland Europe, we transport the baby grand and our collection of sparkling instruments by road.
Our secret to being able to play in the likes of Dubai is having full sets of our trademark diamante-encrusted instruments stored in key locations around the world. This means The Sparkle Band can perform in the most popular destination wedding locations with a full complement of glistening instruments!
We will help you create the destination wedding of your dreams!
No two weddings are the same and neither should they be. A wedding should be as unique as you and your partner, and that's something we always keep in mind when working with couples.
We will do everything we can to help make your wedding day truly special with an entertainment package tailor-made to put the Big into your Big Day.From the moment you contact us to the very last drop of sweat we leave on your stage, you will have our undivided attention. The devil is always in the detail and we are detail people!
Your dream wedding demands the very best in live entertainment, and there isn't a band on the planet that makes a stage shine as brightly as we do! So, if you would like to discuss different live music options for your destination wedding, wherever you plan to hold it, please contact us today for a no-obligation chat.