The Sparkle Band perform at a luxury chateau wedding in Provence
The Sparkle Band's world-class musicians performed at another luxury wedding at the stunning Château d'Estoublon located between Arles and Nîmes in Southern France for the lovely Charles and Elizabeth.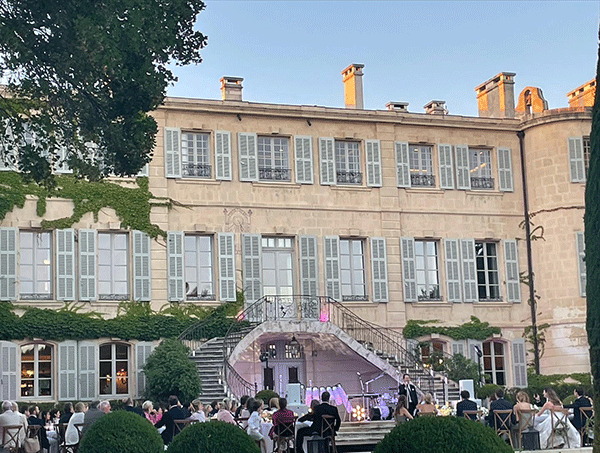 It began with a trip on the Eurostar with our van full to the brim of glistening instruments. We have yet to cover the van in crystals, but I'm sure it's going to happen soon.

Once into France we began the long but beautiful drive through Dijon, Lyon and finally into Provence where the stunning Château d'Estoublon (located between Nîmes and Arles) awaited us.

Making our way up the epic tree lined driveway towards this magnificent building filled the entire band with excitement as it hit us, this château could well be one of the most beautiful places to perform as a live wedding band in the south of France.

We provided all the AV and lighting for this luxury French wedding, so needed to ensure it was in keeping with the surroundings. Keeping it simple and using mainly whites to create a sophisticated and glamorous atmosphere, we set about setting up the band's equipment in a way that would capture everyone's attention.

The Sparkle Band performing at a luxury wedding in Provence, France

Performing on the front terrace of the Chateau d'Estoublon meant the band were in full view of the audience, so needed to look immaculately dressed and be ready to perform when the lovely Aurélie from the wedding planning team at @jai2amoursevents gave us the green light!


Luxury Chateau Wedding Entertainment in the South of France

This 15th century Chateau in the heart of Provence, France was about to be graced by a beautiful bride and groom, all of their friends and family, and we had one hell of a party to bring to them. Our stage for the night looked incredible the sound system rang through the open vineyards that produce the famous Chateau d'Estoublon wine, the atmosphere in the air was electric.

For the first main set we opened with a huge tune called "Shut Up And Dance" by Walk The Moon, no one took any notice of the lyrics, and they all sang in full voice and mobbed the dance floor before even having deserts. The 25 minutes to get the party vibe going turned into 25 minutes of dance floor madness, with not an inch of it left to be seen. The bride and groom at the centre of all the fun with big smiles, shuffling feet and arms in the air.

Then came the band's one and a half hour set that took this wedding party into the early hours, but still not a single person left the dance floor. From guitar solos behind the head to our roaming brass section jumping up and down with the friends and family that gathered at the Chateau d'Estoublon we made sure as a luxury wedding band that we have a show everyone will remember.

Well as much as we could carry on talking about this stunning wedding in Provence, we have a van to pack and head off to our next stunning location which will take us through Montpellier, Toulouse, Burgos, Valladolid, Guarda, Covilha, Lisbon and finally to Sintra where we will be setting up from Thursday for another luxury wedding in Portugal.

Come back next week to see how we got on!

Thank you so much Adam for everything!

You all truly made it such an epic party.

Everyone couldn't stop talking about how incredible you guys were.

We couldn't have wished for anything more.

Hopefully we can all party together again.

Charles and Elizabeth, New York