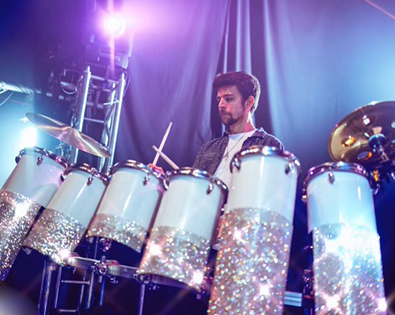 Ready to bring some genuine sparkle to your next event?

The Sparkle Band is the perfect live entertainment choice for conferences, award ceremonies, exhibitions, product launches and other corporate events.

We take as much pride and pleasure in representing your brand and company as we do performing as The Sparkle Band, so expect nothing but the highest level of professionalism and commitment as we play our part in making your event truly sparkle!

So, if you want to add oodles of razzle dazzle and take your event to the next level, do yourself the biggest of favours and put The Sparkle Band at the top of your entertainment shortlist!


Reach for the stars with your next product launch!

There's no better time for you and your business to shine time than at a product launch!

When launching a new product, your brand is embarking on a new journey and the unveiling demands corporate entertainment to suit. With the press, employees, investors and clients all in the same space, creating the perfect atmosphere is key to a successful product launch.

When luxury brands like Aston Martin are booking The Sparkle Band for the launch of the New Vantage in a huge aircraft hanger just outside of Cambridge, you know you are in good company when hiring The Sparkle Band.


High End Corporate Entertainment
The Sparkle Band performing at the FIFA World Cup Qatar 2022™.
Entertainment options for your product launch

A high-end product launch deserves high-end entertainment. Not only do we offer the very best in live music, we tailor line-ups and sets to match your exact requirements. Whether it's dazzling evening entertainment or music at various times throughout an entire event, The Sparkle Band delivers. We will discuss your exact requirements in detail with you, but here are some popular options for you to consider.


The Sparkle Band Show Band

The ultimate in live entertainment when you want to make a huge impact, The Sparkle Band Show Band is a visual masterpiece that sounds just as good as it looks. If you are after that jaw dropping moment of "Wow! These guys have really gone to town with this event!", then this is the option for you. Ideal for larger spaces.

The Sparkle Band's Electric String Trio

An elegant entertainment option with a modern take, let me introduce you to our Electric String Trio. Ideally placed at the entrance to greet your guests or on a small stage in the centre of the room (picture The Ned in Central London), this talented trio bring glitz and glamour to the most luxurious of product launches. Capable of filling the smallest of rooms to the largest of venues with sophistication and class, the Electric String Trio can move from foreground to background music as required.

DJ and sax

For product launch events with a younger target audience in mind, may we suggest The Sparkle Band's DJ and sax packages? From a duo up to a wicked eight-piece line-up, this musical choice for your corporate entertainment is just the ticket. Like something out of a Bruno Mars music video, our musicians will be roaming the room while delivering an all-action live performance.

Live entertainment ideas for themed corporate events


Themed events are becoming increasingly popular for Christmas parties, product launches, award ceremonies and other corporate events.

In November 2021, The Sparkle Band performed at an amazing carnival-themed awards night in the ballroom of The Grosvenor House Hotel on Park Lane, London, and at a fabulous Great Gatsby themed event at the Grand Hotel in Birmingham. Although very different events – the fun and sparkles of a carnival setting against the class and sophistication of a high end Gatsby theme – the versatility of The Sparkle Band suited both occasions perfectly.

Here's a selection of themed event ideas we think The Sparkle Band were made for:



Love Boat – Think the ballroom of a luxury cruise liner and you are pretty much there. Glitz and glamour par excellence!
Carnival – Bright colours and sparkles are key ingredients to a successful carnival themed event, but the real magic comes from dazzling musical performances!
Moulin Rouge – Dress the stage in red and The Sparkle Band will provide the gold and diamonds!
Mardi Gras – Big, bold and glam, add The Sparkle Band to a Mardi Gras theme and we all the ingredients for a serious party.
Disco Inferno – With The Sparkle Band's sparkling instruments, your stage becomes one giant disco ball!
Fire and Ice – The Sparkle Band are one of the hottest live acts around, but as you can see from our videos, the band are not just ice cool: it shimmers like ice too!
James Bond – The band only need to play Diamonds Are Forever and everyone will be sold.
Masquerade – A formal feel with a sense of fun, Masquerade-themed events and The Sparkle Band are a perfect combo.
Hollywood – The Sparkle Band bring the glitz and the glam of Hollywood in spades!
Winter Wonderland – Under blue and white lighting, the stage will look frosty, but the entertainment will be poker hot!
Casino Royale – The Sparkle Band ooze Las Vegas!
Glitter Ball – A very popular theme for events in big cities, nobody brings the glitter and high end corporate entertainment like The Sparkle Band!
Outer Space – A match made in heaven, The Sparkle Band will bring the stars to any stage.

There isn't a themed event out there that wouldn't benefit from some added sparkle, so let us know what you have planned and we will work with you to create an event to remember!



That all important After Party!


At the end of a conference, exhibition or business event, show your guests how much you value their attendance with unforgettable live music at your after party.

We can transform a conference suite from a workspace into a nightclub fit for a seven star Dubai hotel in just a couple of hours: the stage packed with glistening instruments, a bar stocked to the brim, and a dance floor ready to be filled with dancing feet. Enter your guests and its epic party time to put the cherry on the top of your successful event!



Want to talk about entertainment options for your next event?


Booking the right entertainment for your next event can be crucial to its success so act now to secure The Sparkle Band for your forthcoming event!

We work closely with event organisers to tailor entertainment packages to meet your requirements, so for a no-obligation chat about The Sparkle Band playing at your next event, contact us today.