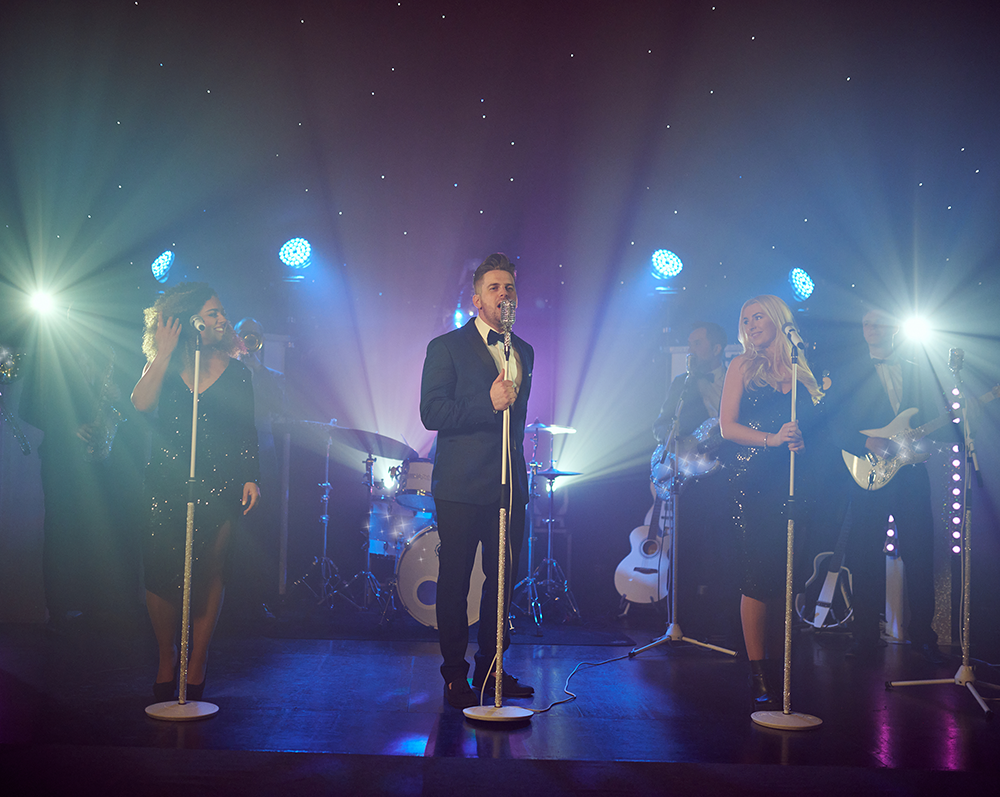 Just another wedding?

Are you arranging "just another wedding"? We doubt it. Your wedding day is one of the most important days of your life, and we've yet to meet a couple who want their Big Day to be bland, ordinary, forgettable.


Just another wedding band?

That's why you don't want "just another wedding band" to play at your wedding.

Admittedly, there is no shortage of wedding bands to choose from, but we think you will have to look long and hard to find a band as good as The Sparkle Band.

When creating this bespoke wedding band, we wanted it to be in a league of its own. It had to be the "must have band" for luxury weddings, so we knew we had to create something truly exceptional.

As well as an incredible live sound, we wanted a wedding band that is visually stunning, a band that turns any stage into the main event. And we wanted to create an experience you and your family and friends will remember for years to come. In short, a band that will see your wedding shine like a diamond!


Musical instruments as bespoke as your wedding.

You wouldn't believe the hours we spent lovingly encrusting each and every one of our musical instruments with enough faux diamonds to put the starriest of nights to shame. The result is truly stunning! Glitz and glamour in lavish abundance!

Photos and videos don't really do The Sparkle Band's instruments justice. Wait till you see them with your own eyes. Prepare to be dazzled!


When only the best in wedding entertainment will do.

Launched in 2021, The Sparkle Band takes the idea of the showband and transforms it into a stunning visual spectacle that is perfect for weddings and other high-end events.

If you want exceptional talent to perform at your wedding, look no further. Our singers have performed with the likes of Rod Stewart, John Newman and Eric Clapton. Believe me, you don't get asked to tour with acts of this quality unless you too are at the top of your game.

Of course, our dazzling instruments also demand musicians of the highest calibre to play them. Members of The Sparkle Band have played with One Direction, Adele, Dua Lipa, Rag'n'Bone Man, Jamie Cullum and Ed Sheeran, to name but a few.

This is the level of musical talent we will bring to your wedding and it gives us the ability to create a mind-blowing stage show that will take it to the next level.


Give 'em the new razzle dazzle!

The Sparkle Band was made for the Instagram era. We want you and your guests to capture precious moments with their cameras and phones, creating memories that will give them goosebumps when they relive just how incredible your wedding day was!

Expect to see our guitarist in the middle of your dancing guests playing a monster solo behind his head, our brass section on their knees, shredding their way through epic lines, and our vocalists out on the dance floor, singing and dancing, and getting the crowd as pumped as possible!



We just want to say thanks to Adam for the beautiful way he really made our day special – we couldn't have asked for a better singer for our wedding, and we'll definitely cherish the memories of every moment of the day forever. If you're looking for the best wedding singer in the business, don't look any further.
Cat and Charlie, London
Wedding music for guests of all ages.

Here's a selection of the type of songs you can expect to hear at your wedding:

Signed Sealed Delivered – Stevie Wonder
Treasure – Bruno Mars
Shut Up and Dance – Walk The Moon
All Night Long – Lionel Richie
Crazy In Love – Beyoncé
American Boy – Estelle
Ain't Nobody – Chaka Khan
Respect – Aretha Franklin
Uptown Funk – Bruno Mars
Don't Stop Me Now – Queen
Shape of You – Ed Sheeran
We Found Love – Calvin and Rihanna
I Feel Good – James Brown
Valerie – Amy Winehouse
Pony – Ginuwine
Superstition – Stevie Wonder
Proud Mary – Tina Turner

And whatever your chosen song for that all-important first dance, we will be happy to perform it.


Wedding entertainment tailor-made for you.

The Sparkle Band will work closely with you to create a bespoke wedding package to make your Big Day truly magical from start to finish. Here are some suggestions to take your wedding entertainment to the next level:


Our fabulous string quartet are perfect for your wedding ceremony

Bring your wedding ceremony to life with live music from our string trio or quartet. The presence of our sparkling violins, cello and viola bring elegance and sophistication to the occasion as they play both classical tunes and classical twists on modern favourites.

Fun and frolics can be had with our roaming band mingling with your guests enjoying cocktails and canapés

While you guests are waiting for the wedding meal to begin, why not have our roaming musicians entertain them? Perfect for indoor or outdoor entertainment, choose from an acoustic guitarist, a five to ten piece band, or go full Ibiza with our DJ and sax duo.

The Sparkle Band's swing quintet will add a real touch of class and sophistication as you dine

While you and your guests enjoy the wedding breakfast, allow our jazz and swing quintet to provide the very best in live background music. Add a sax and trombone player, and we can roam the tables!

Our insanely talented show band guarantee an unforgettable wedding reception for you and your guests

The Sparkle Band brings the ultimate in live musical entertainment to your evening reception with glittering instruments and high energy sets guaranteed to fill your dance floor. From your first dance to the last song of the evening, this truly is the very best in live wedding entertainment!

And our sax and DJ combo will entertain you and your guests into the early hours

Forget Ibiza: the party is happening right here, right now, at your wedding! Our sax and DJ combo are the perfect way to round off an amazing day. The Sparkle Band have added their own twist to this popular late-night entertainment choice, with optional singers, additional brass, and a violinist available on request!
Your wedding: a limited edition of one.

A wedding is a celebration of two people's love for one another: a special day in your life when every single moment counts. That's why it's so important to get your wedding entertainment just right, and The Sparkle Band is at your service to help you do exactly that.

For a no-obligation chat about us playing at your wedding, contact us today. We love talking weddings, so let us know what you want and we will move mountains to play our part in delivering the bespoke wedding of your dreams!