Luxury Wedding Band Italy
Music really is the food of love, and if your wedding is in Italy, The Sparkle Band, is at your service with a feast of world-class musicians and twinkling diamante instruments to dazzle you and your guests.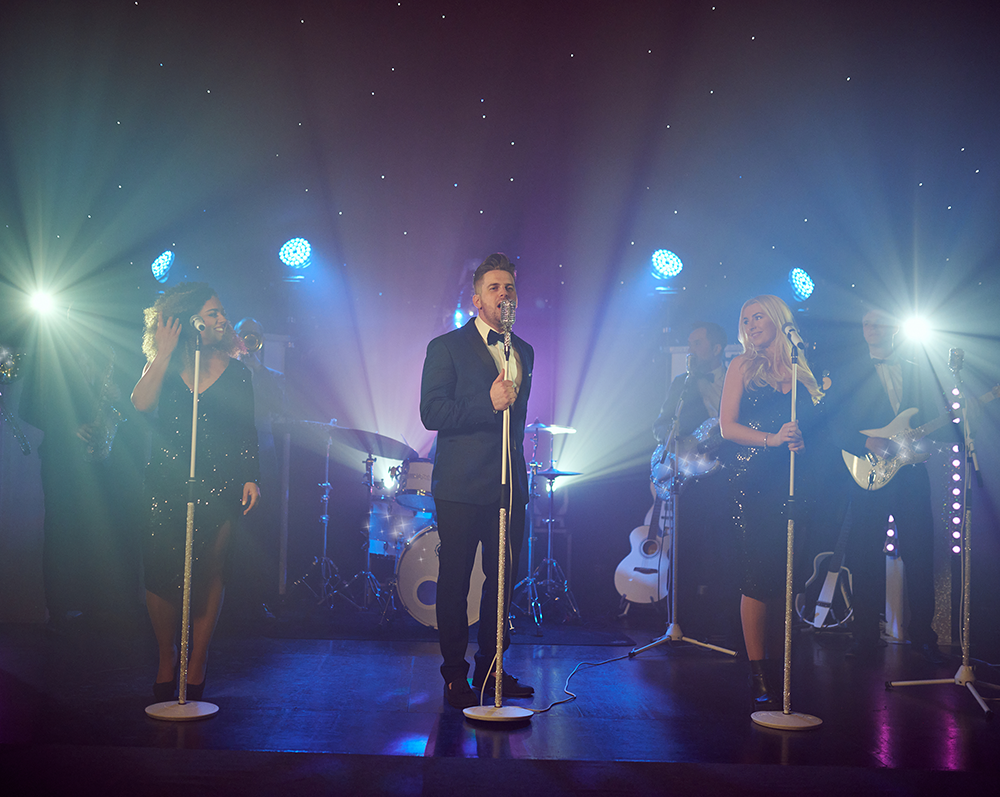 The Sparkle Band are known throughout Italy, as one of the leading wedding bands available to hire. Formed of sensationally talented musicians and vocalists, you'll be able to choose from a 7-17-piece show band for your Italian wedding. With their high energy live performance in addition to personalised attention to detail, The Sparkle band will leave couples all over Italy wishing their night would never end.

From the ancient ruins of Rome to the Italian Renaissance of Tuscany and the lakeside resorts of Lake Como, The Sparkle Band are the latest trend in luxurious weddings and events. And this is your opportunity to give your wedding day the live music and entertainment it deserves. Complemented by the uniquely stunning backdrop that Italy offers, our wedding band is yet another way to give you and your guests an experience they won't forget.

From the islands that surround Italy to the mainland itself, The Sparkle Band are poised to add extra charm to your chosen venue. And, although they shouldn't have their favourites, they do! Here are the bands top ten Italian wedding destinations


Top 10 Luxury Wedding Destinations in Italy 2022




The Sparkle Band performing at a luxury wedding at Villa Balbiano in Lake Como, Italy


But let's face it, if you are planning a wedding anywhere in Italy you are already guaranteed a fairy-tale celebration. There are many other locations in Italy that The Sparkle Band have produced an unforgettable wedding experience.


The Sparkle Band's top 5 line ups for weddings in Italy.

Regardless of whether you have chosen a luxury hotel in Venice or a remote villa in Sorrento, we are the perfect wedding band for your big day in Italy. Understanding that this day is like no other, we have put together a list to help you chose which of our popular bands will most suit you and add that extra sparkle to your Italian wedding.


The Wedding Band to hire in Italy

Our Show Band, and what those in Italy would consider the ultimate wedding band. Formed of world class musicians and vocalists, this entertainment choice is, without doubt, the most popular act we offer. Offering something for everyone with hits from Stevie Wonder to The Killers, the dance floor will never be empty. If you are looking for the magic and energy that only a live performance can achieve, then the Show Band is the one for you!


The Sax and DJ live

Our second most popular live act for weddings in Italy is our Sax and DJ live line-up. With world-renowned DJs and incredibly talented, highly energised saxophonists, adding a touch of glamour to your evening of wedding entertainment could not be easier. It's a little like being surrounded by the culture and history of Italy, with the euphoria of Ibiza beating in time to your heart. You can expect sophisticated sax solos with modern, live mixes from the DJ. This duo will have you and your wedding guests in the palm of their hands, you will be proud to be hosting such a showcase wedding, that's for sure!


The Sparkle Roaming Band

With a touch of vintage and a whole lot of class, our Roaming Band ticks every box when sourcing wedding entertainment in Italy. With most weddings and celebrations taking place in Italy making the most of the outside spaces and sunshine, the Sparkle Roaming Band accentuate the natural beauty. As the sun flickers from the instruments, the musicians and vocalists will inspire the crowd and get the party started early in the day. This band is recognised for an image, sound and energy that compliments all that an Italian wedding will offer.


The String Quartet

Our experience has influenced our desire to capture and enhance the beauty of your chosen setting. Hence, the most bespoke of our wedding bands, The String Quartet. Our unique, crystallised instruments and classically trained musicians can transform songs into mesmerising melodies that have captured audiences all over Italy. This band elevates elegance at any Italian wedding ceremony but at Lake Como, the shimmer from the sun reflecting from the water towards the instruments creates a setting that takes elegance to a whole other level.


The Night Roamers

Imagine the energy and glamour of the Show Band, combined with the dapperness and sophistication of the Roaming Band. Oh wait, we've already imagined it for you, The Night Roamers. By fusing both bands, we have created an immersive, interactive, live act that perform from the dance floor. Like professional party crashers, this band not only inspires the party, it is the party! Fast becoming our most popular choice for weddings in Italy, this cleverly crafted act works entirely wirelessly, perfectly suited to sound limited venues and for those looking to add originality to their evening's entertainment. If you are looking guitarists shredding on their knees or a quick spin with the lead vocalist whilst your Grandma taps her toes with the bassist, or if you are just looking to put on a show to round up your Italian wedding, this band is the one for you.


The Sparkle Band perform at weddings throughout Italy

Our thing is live music, entertainment and bringing the energy. Our passion is being a part of realising dreams and making memories for couples on their special day. And our aim is to exceed expectations, go above and beyond and compliment your chosen Italian wedding setting. If you haven't quite seen what you are looking for, that's fine. Let's work together to design and create a bespoke line up to suit your wedding and reflect your own ideas.

Book your wedding entertainment in Italy today and rest assured that we will get your party started.