Luxury Wedding Band in San Diego
Music really is the food of love, and if your wedding is in San Diego, The Sparkle Band, is at your service with a feast of world-class musicians and twinkling diamante instruments to dazzle you and your guests.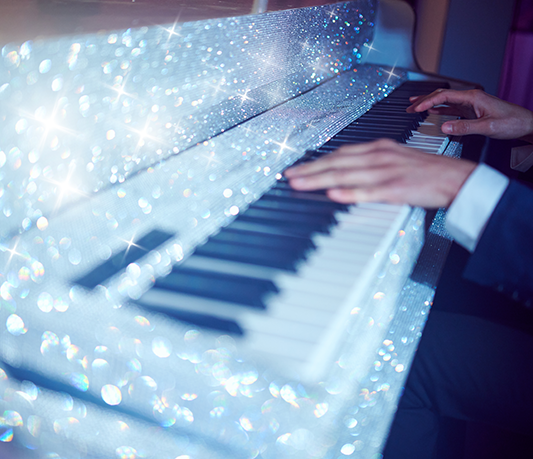 Ladies and gentlemen! Please make your way to the dance floor and prepare to be dazzled! Bringing glitz and glamour to any occasion, The Sparkle Band are here to entertain you!

If you want exceptional talent to perform at your wedding in San Diego, look no further. Our singers have performed with the likes of Rod Stewart, John Newman and Eric Clapton. Believe me, you don't get asked to tour with acts of this quality unless you too are at the top of your game.

Of course, our dazzling instruments also demand musicians of the highest calibre to play them. Members of The Sparkle Band have played with One Direction, Adele, Dua Lipa and Ed Sheeran, to name but a few.

This is the level of musical talent we will bring to your wedding and it gives us the ability to create a mind-blowing stage show that will take it to the next level.

As well as an incredible live sound, we wanted a wedding band that is visually stunning, a band that turns any stage into the main event, that already has the WOW factor before even a single note has been played. And we wanted to create an experience you and your family and friends will remember for years to come. In short, a band that will see your wedding shine like a diamond!



The Sparkle Band performing with DJs US at a luxury wedding in San Diego, California




Wedding entertainment tailor-made for you.

The Sparkle Band is as versatile as it is dazzling. From our DJ and sax combo right up to our 17-piece show band, we have musical options and line-ups for weddings large or small in San Diego.




The Sparkle band perform at weddings throughout San Diego

If you are looking for a band that oozes luxury and has unmatched showmanship for your wedding in San Diego then look no further!

The Sparkle Band are available to perform at weddings in Coronado, Del Mar, Downtown, East Village, Gaslamp Quarter, Hillcrest, La Jolla, Little Italy, Mission Bay, Mission Beach, Mission Valley, North Park, Old Town, Pacific Beach and surrounding areas.

Our secret to being able to play in the likes of San Diego is having full sets of our trademark diamante-encrusted instruments stored in key locations around the world. This means The Sparkle Band can perform in the most popular destination wedding locations with a full complement of glistening instruments!

For a no-obligation chat about us playing at your wedding in San Diego, contact us today. We love talking weddings, so let us know what you want and we will move mountains to play our part in delivering the bespoke wedding of your dreams!