Luxury Wedding Band London
The Sparkle Band perform at a weddings throughout London, creating dazzling high-end entertainment with their world-class vocalists, musicians and sparkly instruments.
The London wedding band of 2023
Delivering world-class live music and entertainment from Central London to the outer boroughs,
The Sparkle Band
are fast becoming the most talked about live wedding band in the Capital.
A wedding band that will take you on a musical journey like no other.
Ladies and gentlemen! Please make your way to the dance floor and prepare to be dazzled! Bringing glitz and glamour to any occasion, The Sparkle Band are here to entertain you!
If you want exceptional talent to perform at your wedding in London, look no further. Our singers have performed with the likes of Rod Stewart, John Newman and Eric Clapton. Believe me, you don't get asked to tour with acts of this quality unless you too are at the top of your game.
Of course, our dazzling instruments also demand musicians of the highest calibre to play them. Members of The Sparkle Band have played with One Direction, Adele, Dua Lipa and Ed Sheeran, to name but a few.
This is the level of musical talent we will bring to your wedding in London and it gives us the ability to create a mind-blowing stage show that will take it to the next level.
As well as an incredible live sound, we wanted a wedding band that is visually stunning, a band that turns any stage into the main event, that already has the WOW factor before even a single note has been played. And we wanted to create an experience you and your family and friends will remember for years to come. In short, a band that will see your wedding shine like a diamond!
The Sparkle Band perform at parties and weddings all over London.
London is filled with incredible wedding venues that deserve exquisite live wedding entertainment to match, and that's where we come in. The Sparkle Band has been lucky enough to have performed at some of London's premium venues such as The Ned, The Dorchester, The Hilton - Park Lane, The Savoy, Tower of London, One Whitehall Place, Meridian Grand and so many more.
Take your time to pick the best London based wedding band.
With all the musical talent and flair that London has to offer, we are proud to say we are certainly up there with the finest and it's safe to say we are one of the most unique and dazzling wedding bands in London.
Booking the very best wedding band for your big day will help take it from a day to remember, to a day you will never forget.
Our main priority is that we get it right for you as a couple, from the music choices to the singers and line ups, we will make sure it's exactly how you have always dreamed.
Wedding entertainment tailor-made for you.
The Sparkle Band is as versatile as it is dazzling. From our DJ and sax combo, right up to our 17-piece show band, we have musical options and line-ups for weddings large or small.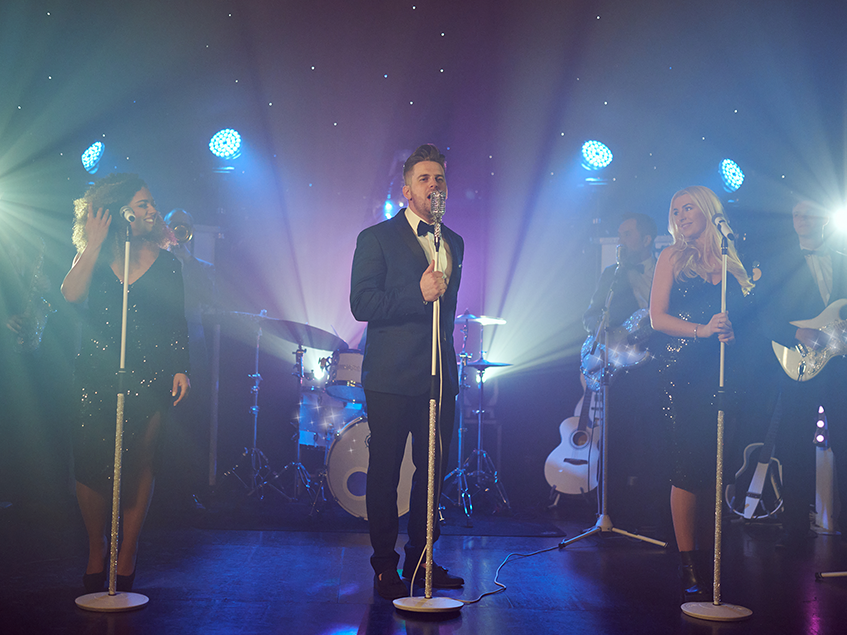 A wedding band born in London
The vision of
The Sparkle Band
started in London during the pandemic of 2020, where the concept, design and build of this luxury wedding band took place. Being so close to the action of the West End gives us the perfect insight as to what weddings in London want when it comes to live entertainment, it's not just an incredible array of musicians, it needs to take that typical live band theme and turn it into a visual masterpiece that captures an audience without a note being played.
For a no-obligation chat about us playing at your wedding in London, contact us today. We love talking weddings, so let us know what you want and we will move mountains to play our part in delivering the bespoke wedding of your dreams!
The Sparkle Band is available to perform at your big day in Barnet, Brent, Camden, the City of London, Croydon, Ealing, Enfield, Greenwich, Hackney, Hammersmith and Fulham, Hampstead, Harrow, Highgate, Hillingdon, Hounslow, Kensington and Chelsea, Kingston upon Thames, Lambeth, Mayfair, Marylebone, Merton, Newham, Redbridge, Richmond upon Thames, Soho, Southwark, Sutton, Tower Hamlets, Waltham Forest, Wandsworth and Westminster!