The Sparkle Band perform at a palace wedding in Sintra, Lisbon
The Sparkle Band's world-class musicians performed at a magical wedding in Sintra, Lisbon at the Hotel Tivoli Palácio de Seteais and Quinta da Bella Vista for the lovely Ryan and Brittany.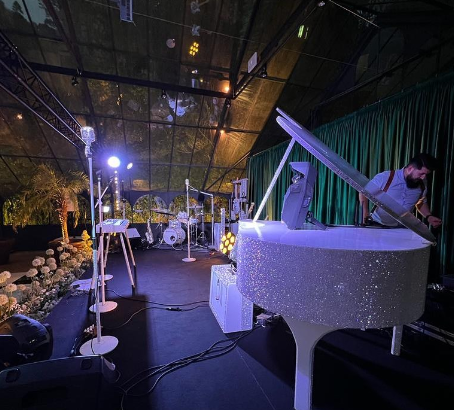 What a weekend performing for one of the most beautiful couples we have been lucky enough to meet.

Ryan and Brittany chose Hotel Tivoli Palácio de Seteais in Sintra, Portugal to tie the knot and wanted a party like no other, and of course, who better than The Sparkle Band to deliver world-class entertainment and a party that will be talked about for a long time to come!

The journey to Portugal started at 6am on Sunday 29th after loading the van from the stunning south of France chateau wedding, with a "quick" completely off route stop for a performance back in London at the infamous Lansdowne Club, we were back on the ferry returning to France and with Sintra firmly in our sights.

Driving through France and Spain and then finally crossing the border into Portugal the excitement started to get very real and just a few days out from the wedding we decided to explore Lisbon to get into the flow of life in Portugal.


Luxury Wedding Band in Sintra

Brittany and Ryan's wedding day in Sintra had arrived, as too had the rest of the band.

With incredible views over the area and within the stunning grounds of a palace the setting for the ceremony was a venue like no other.

This part of the big day took place at Hotel Tivoli Palácio de Seteais. Guests in black tie and black gowns made their way to the lawn where chairs were beautifully arranged to form the perfect isle for Brittany to make her entrance and for the wedding ceremony to take place.

And they are off in a tuk tuk!

That's right the bride and groom and all the guests were now headed to a second venue where the band were waiting. Everyone jumping into a tuk tuk arranged by Tuk tours, from the palace to another stunning venue called Quinta da Bella Vista.

The wedding guests made their way inside for a spectacular dinner created by MAD kitchen who really do know how to make a mean wedding feast!

The beautiful orangery with its well thought out acoustics made for a perfect wedding celebration setting. As the speeches came between meals it became obvious to us that this was a room full of love. Family members made emotional and moving speeches about our beautiful couple and the atmosphere was getting more and more in the party spirit.

So it did over run a little bit who is keeping track of time when performing as a wedding band in Sintra? We certainly weren't. The later it got the more energised the room seemed to become! The great thing about a destination wedding is no one there is tied by work or other restraints at home. It's like going on holiday but with 110 of your closest friends and family!

The first dance was epic…

We have seen quite a few first dances in our time as a wedding show band but none quite as epic as Brittany's and Ryan's! Weeks of practicing really paid off and for these non-professional dancers it really was like a scene from strictly come dancing! I'd had a few sneak peaks at the practices, but we were all blown away by the lifts and showmanship of this bride and groom. From that moment on the scene was set for what was to follow… a party like no other!



The first dance of Brittany and Ryan at Quinta da Bella Vista



There were two firsts for our guitarists Dom on this destination wedding. The first one was playing a behind the head solo in Sintra at a wedding and the second was just before this the bride Brittany sliding through his legs as he joined everyone on the dance floor. Check it out below and see if you can see him blush!



The Sparkle Band performing at the luxury palace wedding in Sintra



The night carried on into the early hours, the band jumping around with wedding guests and putting on a real show for all that were in attendance.

Our bride and groom for this Sintra wedding were without doubt the life and soul of the party and it became easy to understand why so many people had flown for 10 hours to share this day with them.

We would like to thank the incredible planners Sofia Nascimento Studios. We have been fortunate enough to work with some of the top wedding planners in the business but it's fair to say none have been quite as calm and collected as the team in Sintra. The aim all the way through was to work as a team to give Ryan and Brittany the wedding they had dreamed of. Sofia and her team did this with passion and smiles the entire day.


Luxury Wedding Band in Lisbon

Sintra really is like no other place we have been as a wedding band and is definitely somewhere we would love to come back to. If you are planning a wedding in Sintra or Lisbon and would like The Sparkle Band to provide the very best in live entertainment get in touch today.