The Sparkle Band perform at a luxury wedding in Palma, Mallorca
The Sparkle Band's world-class musicians performed and entertained at a magical wedding in Palma at the St. Regis Mardavall Mallorca Resort for the lovely Jade and Shaun.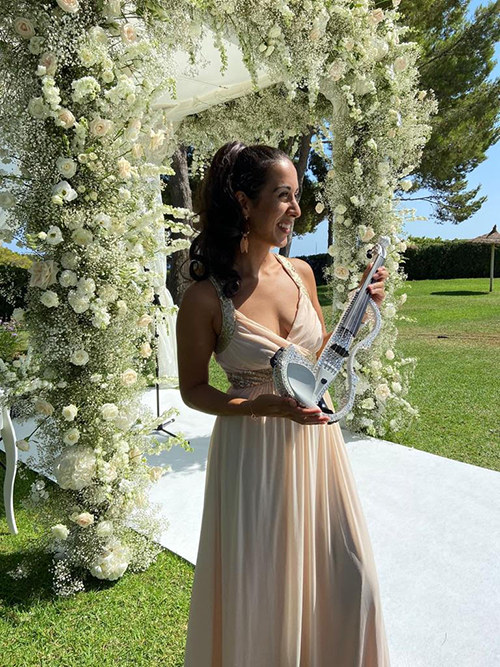 We want the very best in high end wedding bands in Palma, Mallorca they said. A band that will deliver a world-class performance and get all our guests on their feet and singing along all night long.

That's where The Sparkle Band comes in!

We might not live in Palma but we can definitely make sure that this Spanish island has at least one night of epic live music from our world-class singers, the very best musicians and the most sparkly instruments around!

Needless to say our happy couple Jade and Shaun went all out and booked us for two days of performances.


Day 1 - A luxury wedding at St. Regis Mardavall Mallorca Resort

Our electric strings debut gig had finally arrived!

Each of the instruments flown in on its own seat to Palma including violins and a magical looking cello.

As we arrived at St Regis Mardavall Mallorca Resort for sound check and removed the instruments from their cases, staff members and hotel guests stopped and stared for a moment before asking to take pictures and videos of the set up. Our team of incredibly talented string players, one of which is currently on tour with Ed Sheeran, took their seats and gave an emotional performance as the wedding party made their way down the isle of flowers that had been flown in all the way from Germany. A magical part of the wedding ceremony was a butterfly release in memory of Jades grandfather. The strings trio started the Ed Sheeran tune "Perfect" as the 100 butterflies set on their own journey.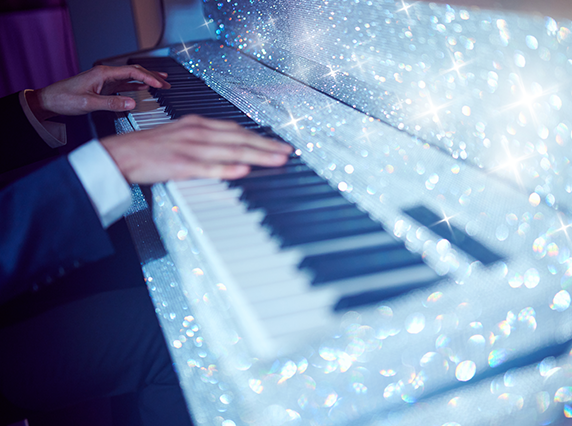 The wedding breakfast as St. Regis was possibly one of the most impressive feasts we have ever seen.

We were booked to perform one set stood facing the audience with the sea behind them, performing songs such as "Dock of the Bay" and Isn't she lovely, and then turn things up a little after the surprise fireworks display Shaun had planned for Jade.

So once guests returned The Sparkle Band went into full roaming band mode. It was fair to say the staff at St. Regis hadn't had much experience in the way we do roaming band thing. A few looked shocked as Jimmy stood on chairs giving epic sax solos and Dom rocked out with behind the head guitar solos. The guests danced and sang along to classic anthems with huge smiles filling the room.

Once we had the crowd all fired up we took it up another level spinning bridesmaids and jiving with aunties as uncles commented on how they used to be able to move like that…

This wedding audience were not shy and were not there to enjoy the food or admire the views that surrounded this Palma venue, they were there purely to celebrate love and to party into the early hours so that's exactly what we did!!

The wedding party moved inside and we announced Jade and Shaun into the room. 840 balloons lined the ceilings and a sparkly white dance floor compliments the instruments as they dazzled and glistened from the white stage.

The bride and groom took to the dance floor to Will Young's "Evergreen" as their friends and family gathered around them all enjoying the moment but with an air of excitement to dance surrounding them all.

Dad and daughter dance next with a classic from Andy Williams - "I can't take my eyes off of you". As we approached the chorus a stampede of dancing feet swamped the dancefloor.

From that moment on this Palma wedding was in full party mode!

As a wedding band we are used to seeing people have fun but this crowd took it to another level.

If we can't keep the party vibe as hyped as possible then we are not doing our job as a wedding band well, so you will never see us turning down the energy it's on a constant upward trajectory.

After our two hour straight set our DJ and Sax combo jumped on the stage, Jimmy with his sax at full tilt with Todd behind the decks giving the crowd banger after banger. Callum even jumped back on the drum kit just to fatten out the energy of the beat!

The room was electric, bride and groom right at the front and a lot of the time even on the stage vibing along to Jim's monster sax solos!



The Sparkle Band at a wedding in Mallorca getting the party into full swing!


We went on to 4am with a packed floor before being asked nicely to bring the volume down a little as the hotel guests wanted to try and get a little bit of sleep that night… oooooops!

Overall this was a wedding day that had it all, emotion, fun, laughter and a lot of dancing and we were thanked for playing a big part in this as they wedding band chosen for this wedding in Palma.


Day 2 - The beach party at Purobeach in Palma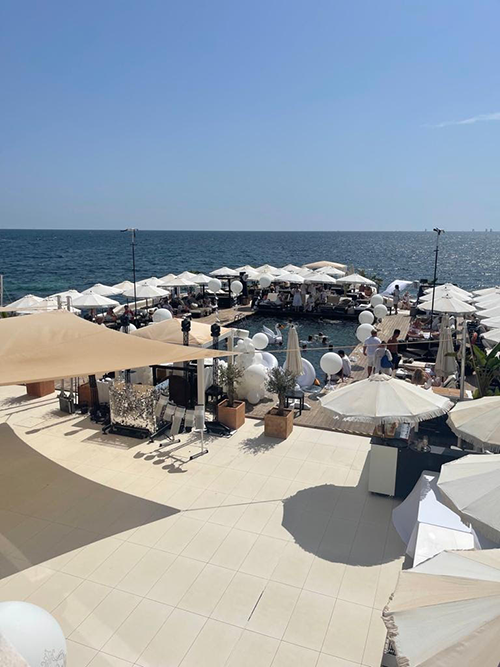 So we are at it again.

Day 2 and we head to the infamous Purobeach of Palma. A beautiful beach club with a pool full of white inflatable swans, white balloons everywhere and as guests started to arrive in their white linen you could of mistaken this party as something happening in Ibiza, Mykonos or Marbella.

It was definitely the right set up for a live DJ gig with Todd back on the decks, Callum on the bespoke sparkly percussion kit, Corey on the sparkle violin and of course we had Jimmy back on the sax just to make sure the energy never dipped!

Honestly, Jimmy is like a Duracell bunny. He will keep on jumping even when the last guest has called it a night!

We started off with a bit of disco and chilled house to get everyone slowly ready for the main performance. Sway pole girls from Germany were flown in to entertain us all, another smaller band did a few sets of classics as guests relaxed but it was clear by 8pm everyone was ready for a repeat of the night before.

So as soon as the sun set behind the hills of Palma, Jimmy got it going, lapping the swimming pool creating a congo line to the dance floor area where Corey was waiting to great guests with amazing violin solos!

The party had started! An epic live performance of world-class singers, the very best musicians and the sparkliest instruments around.



The Sparkle Band performing at a luxury wedding in Purobeach of Palma, Mallorca.


For a no-obligation chat about us playing at your wedding in Palma or anywhere in Mallorca, contact us today. We love talking weddings, so let us know what you want and we will move mountains to play our part in delivering the bespoke wedding of your dreams!