Luxury Wedding Band in Dubai
Live Entertainment In Dubai

Bringing dazzle and sparkle to your Dubai event with a one-of-a-kind luxury event and wedding band!

First and foremost you're having an event or wedding celebration in Dubai, so already you really are planning something very special.

So the fact you have found yourself right here for our luxury Dubai wedding band we assume means you are looking for the very best in live entertainment that the UAE has to offer?

Well, you couldn't have come to a better place. Here you will find the world-class musicians, breathtaking live performances and the glitz and glamour that fits in with every occasion from weddings to parties in the incredible city of Dubai.


The ultimate wedding band to book in Dubai

Music really is the food of love, and if your wedding is in Dubai, The Sparkle Band, is at your service with a feast of world-class musicians and twinkling diamante instruments to dazzle you and your guests.

Ladies and gentlemen! Please make your way to the dance floor and prepare to be dazzled! Bringing glitz and glamour to any occasion, The Sparkle Band are here to entertain you!

If you want exceptional talent to perform at your wedding on the Dubai, look no further. Our singers have performed with the likes of Rod Stewart, John Newman and Eric Clapton. Believe me, you don't get asked to tour with acts of this quality unless you too are at the top of your game.

Of course, our dazzling instruments also demand musicians of the highest calibre to play them. Members of The Sparkle Band have played with One Direction, Adele, Dua Lipa and Ed Sheeran, to name but a few.

This is the level of musical talent we will bring to your wedding in Dubai and it gives us the ability to create a mind-blowing stage show that will take it to the next level.

As well as an incredible live sound, we wanted a wedding band that is visually stunning, a band that turns any stage into the main event, that already has the WOW factor before even a single note has been played. And we wanted to create an experience you and your family and friends will remember for years to come. In short, a band that will see your wedding shine like a diamond!


Wedding entertainment in the Dubai tailor-made for you.

The Sparkle Band is as versatile as it is dazzling. From our DJ and sax combo for a beach wedding, right up to our 17-piece show band for a luxurious hotel wedding venue, we have musical options and line-ups for weddings large or small in Dubai.




The Sparkle Band perform at high-end weddings and events in Dubai

When booking a live wedding band in Dubai especially a show band such as The Sparkle Band there are the three WOW factors to look out for.


The visual WOW Factor of the band

A Dubai wedding deserves a truly magical Dubai wedding band!

Picture a stage filled with instruments that flicker and glisten with every passing light.

Imagine walking into that wedding space as a guest and being WOWed without a single note being played or even a musician in sight.

Now onto the stage comes 14 musicians immaculately dressed, matching as a unit show band ready to take you and your wedding party to a level of excitement and happiness rarely felt from a live music performance.

The energy The Sparkle Band creates from it's image is like no other band does.


The energy and atmosphere that the band can create

A combination of our bespoke instruments, vocal and music ability, song choices are part of this but ultimately it's the fact we feel most alive when on stage. An adrenaline like no other is felt when we perform at weddings in Dubai and it's infectious!

Creating energy is all about reading the crowd and picking our moments perfectly to keep that adrenaline level rising and rising, The Sparkle Band really have become masters of this.

Our high energy performances such as behind the head guitar solos centre stage, or our entire brass section in the middle of the dance floor jumping up and down with you and your wedding guests, or the lead vocalist bringing the room to a complete silence to announce your new married names before the beat drops in and the entire place goes wild.


The incredible sound of the band

The band you choose for your wedding in Dubai has to have World-class vocalists and musicians. Our hand-picked pool of musicians and vocalists all have an incredible story to tell from playing with the likes of Ed Sheeran, Adele, Eric Clapton even One Direction to having a combined 12 million streams of various song releases.

Performing at weddings in Dubai or anywhere for that matter is not a job, it is a passion and we believe that is what truly sets us apart from our competition.


The Sparkle Band is Bringing a little bit of Vegas to the Middle East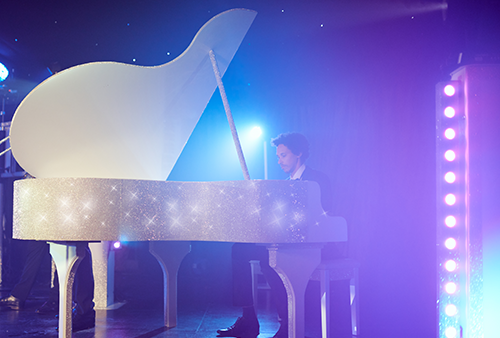 A live band band thats really does bring the show business of Las Vegas to Dubai. Picture Sinatra and Dean Martin on stage at the Sands Hotel in the 40s and 50s, add a lot of shimmering bespoke instruments and an incredible live show performance! That's exactly what The Sparkle Band brings to each and every production.

From a small background vibe to a full on swinging from the chandeliers big band sound we have it all! You can choose from multiple line up options. A lot of our clients in Dubai and the UAE want something a little more low key for a cocktail hour or as their guests dine, and others ask us to put on a show like no other with huge horn sections and multiple vocalists to add the ultimate WOW factor to their event.

Whatever your occasion needs you can be sure we have the winning ticket when it comes to live entertainment in Dubai.

The Sparkle Band are available to perform at venues throughout Dubai and the UAE including Al Maha Desert Resort, Atlantis The Palm, One&Only Royal Mirage Resort, JW Marriott Marquis Hotel, The Ritz-Carlton, Burj Al Arab Jumeirah, Fairmont, Emirates Palace, Raffles, Oberoi Dubai, Crowne Plaza, Le Royal Meridien, Nikki Beach, Four Seasons, Waldorf Astoria, Sofitel Hotels & Resorts, Meliá Desert Palm a Meliá Collection Hotel, Hyatt Regency, Cavalli Club, Dubai World Trade Center and many more luxury venues.

For a no-obligation chat about us playing at your wedding or event in Dubai, contact us today. We love talking weddings, so let us know what you want and we will move mountains to play our part in delivering the bespoke wedding of your dreams!